HSV has built the world's fastest ute, the LSA supercharged V8 GTS Maloo.
Melbourne Mobile Detailing was lucky enough to work on a few of these machines and apply the best paint protection in Melbourne
The Holden HSV Maloo GTS features the sedan's running gear and stunning 430kW LSA V8, making it the most outrageous, most luxurious and fastest Aussie production ute EVER.
But if you want one, you've probably already missed out as the production run of just 250 units has been spoken for
(HSV) Holden Special Vehicles performance car division has ensured the Australian built ute went out with a very big bang by installing the supercharged V8
The engine is shipped to Australia and fitted on the Holden production line in Elizabeth – Adelaide, then the partially-completed car is transported to HSV in Clayton – Melbourne for the finishing touches while even more selected vehicles had the best paint protection applied by Melbourne Mobile Detailing
It also means the GTS Maloo is the most powerful ute to ever go down a Holden production line.
The bellow Youtube video is a HSV Maloo detailing and protection applied by Contact Melbourne Mobile Detailing
The HSV GTS Maloo is a vehicle that brings joy to motoring fans all around the world but it's also a vehicle that makes us Australians sad.
Huge horsepower supercharged V8s aren't going to be around for much longer, especially in Australian form.
We choose to use Autotriz the best paint protection 
All we can do now is enjoy the craziness while it lasts.
Some specs of the vehicle bellow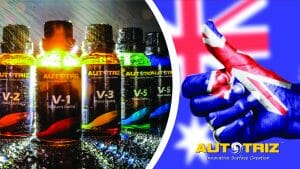 HSV GTS LSA Maloo
Engine: 6.2-litre supercharged V8
Output: [email protected] / [email protected]
Transmission: Six-speed manual
Drive type: Rear-wheel drive, limited-slip diff
Wheels: F: 20×8.5, 255/35 R: 20×8.5, 275/35
ANCAP: Five stars (scored 34.06 out of 37)
Kerb weight: 1830kg
Power-to-weight: 4.2:1 (kg:kW)
Official fuel economy: 15.3L/100km
Economy during test: 16.1L/100km
Fuel capacity/Type: 71L/95 RON
Power efficiency: 28.1kW:L/100km
0-100km/h as tested: 4.1 seconds
Priced from: $87,990