What does car Paint Protection do?
There's paint protection and then there is proper paint protection that's supplied by an authorized applicator who has gone through vigorous training and does every step to make sure the paint protection is applied properly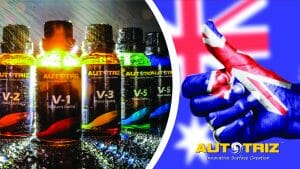 Autotriz A properly applied paint protection is
Its permanent – The  Paint Protection Coating forms a permanent bond with the factory paint work that will not wash off or wear away with heavy chemical cleaners like other paint protection products on the market.
What can we achieve with a professional paint protection coating applied to our new vehicle? We choose to use Autotriz ceramics in Melbourne
Protection – Melbourne Mobile Detailing uses a hard ceramic film like layer that has advanced chemical resistance to protect the paint work against contamination that would otherwise affect the paint such as acid rain,bird poo, tar, tree sap, bug splatter, oxidation and other forms of chemical fall out and contamination.
Easy to clean – Properly applied paint protection is super hydrophobic meaning any water and dirt that comes in contact with the surface will simply bead up and roll off, keeping the car cleaner for longer and easier to clean whilst maintaining a high gloss finish.
UTOTRIZ is the world's most innovative surface creation for a wide range of surface protection and applications formulated
by German's advanced nanotechnology. This is your assurance of the best surface protection available!
German Quality
Since 18th Century, Germany has been advanced in creating an extensive range of chemicals, coatings and bonding materials engineered to exceed the world's highest standards of quality.
Wide Applications
Today, we are proud to introduce the world's most innovative surface protection materials called "AUTOTRIZ", which is 100% formulated in Germany for the most demanding applications whether in automotive, marine, building or industrial.
Leader Of Industries
AUTOTRIZ is specifically developed by one of the most advanced laboratory in Germany. Consistent research and development in nanotechnology ensures AUTOTRIZ always remain as the leader of the industries.
Find out more about paint protection and click here
paint protection melbourne by melbourne mobile detailing