It all begins with Autotriz nano ceramic coatings
Silicon (Silica) Dioxide is an oxide of silica with the chemical formula SiO2. This technology allows an end user to spray coat industrial and domestic surfaces with a super durable coating of invisible, easy to clean glass. The application of SiO2 is amazingly straight forward. After proper preparation of surfaces and fabrics can be coated within minutes
The above photos is recent work performed by George from Melbourne Mobile Detailing and paint protection melbourne
The application method allows the end user to deposit a nano scale layer of molecular, particle free glass, onto the surface of most items. The molecules of glass come from pure quartz sand. Just like domestic glass, the coatings are chemically inert and highly resistant to acids. The coatings also offer resistance to alkalis and solvents.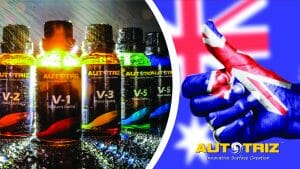 For the very best ceramic paint protection
Although there are many similarities to standard glass. These coatings are stunningly different. The layer is flexible, breathable, highly durable, heat tolerant, anti-microbial and offers non stick and "easy clean" characteristics. The thinnest coatings are undetectable, super phobic (repel oil and water), anti-microbial, super-durable, heat tolerant, breathable, flexible, physiologically harmless, easy to apply and environmentally friendly. All coated surfaces become "easy clean" and in most instances the coated surfaces can be cleaned with water alone.
German made advanced technology is the solution to many problems in the home and in many fields of industry. In healthcare and food production, where cleanliness is vital, the coatings have proven to be the answer to problems associated with difficult to clean surfaces, previously a breeding ground for bacteria. In the auto industry, where paint protection, stain proofing and rain repellent surfaces are sought, Autotriz ceramic coatings have proven to be the chosen technology. In the aviation sector where interior and exterior surfaces have to be protected, nano ceramic technology is being rapidly adopted. The list is almost endless.
A film of nano ceramic, only 100nm (approximately 500 times thinner than a human hair), is incredibly durable. Several domestic coatings can withstand 100,000 wiping actions; some of our industrial coatings can withstand many 100s of thousands of wiping actions.
nano ceramic ultra thin coating technology has been described as "one of the world's most versatile technologies" and when you consider it is easy to apply, heat tolerant, highly durable, chemically inert, food safe, low cost and anti bacterial, you can see why. Autotriz has been used as a food additive for many years.
It is commonly used in products such as toothpaste, ketchup, and beer. However another of its great values to the food industry is as a surface coating.
Surfaces coated with Autotriz exhibit anti-sticking, easy clean, stain proofing and biostatic characteristics. As ceramic coatings are inherently food safe and inert, it is the ideal coating for food production plants, butchery departments, storage vessels, kitchen implements and food handling surfaces.
Autotriz s can be applied to almost any surface, and in most instances we have an "off the shelf" solution to most requests. It should be stressed that not all of our coatings are at the nano scale. Some of our coatings are in the 2-3 micron range.
A nano scale coating is ideal if you wish to coat optical lenses but if you wish to coat flooring in a supermarket then a thicker coating may be more suitable. In all instances our coatings are low cost and very easy to work with.
Autotriz coatings can be used on almost all surfaces within the Healthcare sector. This includes clothing, stethoscopes, surgical instruments, walls, floors, operating theatres and bedside tables. Literally hundreds of surfaces can be coated within a hospital, dental surgery or similar environment.
Autotriz is ideal for protecting cars and motorcycles. Alloy wheels become easy to clean and blemish free, as brake dust does not burn into the coating. Exterior body work and fuel tanks become protected by a glossy, easy to clean and abrasion resistant coating.
Car seats become stain resistant and odours can be significantly reduced, especially if an anti-bac variant is used. Perhaps most significantly all of the windows can be coated with a highly durable and undetectable super-phobic coating which massively increases visibility when driving in heavy rain.
Subscribe to my channel "Paint protection Melbourne"
Tesla Y with AvantGarde paint protection by Melbourne Mobile Detailing
New car paint protection Melbourne Audi RS5
Tesla Model 3 Dual motor with AutoTriz nano ceramic paint protection by Melbourne Mobile Detailing
Lexus RX300 SUV with AutoTriz nano ceramic paint protection - Melbourne mobile detailing
Bzzz Yellow mustang with AutoTriz nano ceramic paint protection in Melbourne
The Tiguan by Volkswagen with AutoTriz nano ceramic paint protection in Melbourne